Up to 20 selections per bet.
Perms for all bets, except Speciality.
Support for Won, Placed, Lost and Void (non-runner).
Flexible input of stake and odds.
Calculate unit stake from total stake limit.
Calculate understaked and overstaked bets with 'Exact Total' stake setting.
Stakes & returns displayed in local currency.
Configurable bonuses for Alphabet, Lucky 15, 31 & 63, plus Canadian, Heinz & Yankee.
Apply bonuses to Return or Winnings.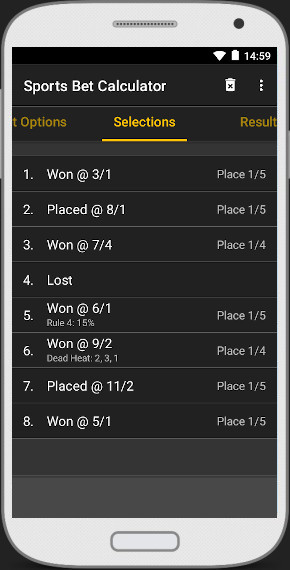 Each Way, including equally divided.
Place Terms from 1/1 (all up to win) to 1/6.
Rule 4 deductions.
Dead Heat for win or place.
Settle winning unnamed Joint Favourites.
Automatically convert Fraction, Decimal & American odds.
Inbuilt help for all bet types & options.
Easy to use.
Light and Dark colour schemes.
Current bet details are automatically saved.
Basic
Single
Double
Treble
Accumulator
Full Cover
Trixie
Yankee
Canadian
Heinz
Super Heinz
Goliath
Block
Full Cover with Singles
Patent
Yap
Lucky 15
Lucky 31
Lucky 63
Super Heinz with Singles
Goliath with Singles
Block with Singles
Any To Come
Single Stakes About (SSA)
Double Stakes About (DSA)
Round Robin
Flag
Super Flag
Heinz Flag
Super Heinz Flag
Goliath Flag
Speciality
Rounder
Roundabout
Fivespot
Pontoon
Alphabet
Magnificent 7
Union Jack Patent
Union Jack Round Robin
Bookies Nightmare
Union Jack Treble
Union Jack Trixie